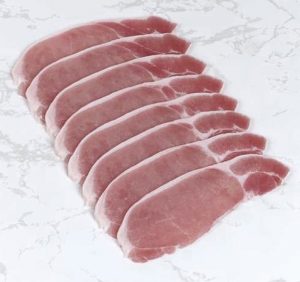 We specialise in Traditional Hand Salted Dry Cured Bacon.
Being specialist bacon curers, we can tailor make our bacon to meet your requirements.
Our range of bacon products includes Outdoor Reared, Free Range & British Meat.
Both Back Bacon and Streaky Bacon are available.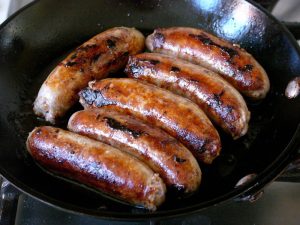 Our Butchers style 81% meat British Pork Sausages are made as they were 40 years ago for selling in out butchers shop.
The ingredients are mixed, then filled into natural casings.
This gives a sausage that is full of flavour and with a wonderful meaty texture.
Gammons, Hams and Sliced Ham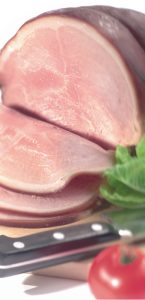 We stock a range including Whole Hams, Half Hams and Sliced Ham in addition to Uncooked Gammons which are available on or off the bone.
Broadland Hams (Norfolk) Ltd
Curers and distributors of quality Hand Salted, Dry Cured Bacon ~ Butchers Style Sausages ~ Hams and Gammons.
Telephone: 01603 412 125
Email: sales@broadlandhams.co.uk
Founded over 40 years ago
Broadland Hams has grown from its start as a Norwich butchers shop to be Norfolk's premier award winning producer of specialist Ham, Bacon and Sausages.
Our family run business is located in the small farming village of Little Melton. Using our own special recipe to give a full flavour and a delicious taste that is exclusive to Broadland Hams.
We take pride in our traditional production methods which are carried out to the highest hygiene standards in our EU approved factory.